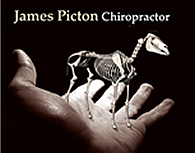 EQUINE , CHIROPRACTIC, OSTEOPATHY & ACUPUNTURE
Member Australian Veterinary Chiropractors Association
James will be at these locations if you would like to call for an appointment ...
MONDAY through Thursday - Sydney South West locations

FRIDAY Sydney North locations
REGIONAL AREAS - group bookings only by appointment.
NEW ZEALAND 23-28TH OF November SYDNEY 29-30th CANBERRA/COOMA 4-8th of December
James Picton has treated human patients as a registered Chiropractor and Osteopath for over 20 years and practiced musculo-skeletal acupuncture on humans for over 10 years.
In 2007 James completed a Graduate Diploma in Animal Chiropractic at RMIT University after becoming interested in animal/equine/horse chiropractic after working with an equine chiropractor and witnessing the amazing results on horses.
James has obtained extensive horse experience working with prominent equine Chiropractors and Osteopaths as well as Vets practicing veterinary acupuncture for horses.
Currently James operates a busy and rapidly expanding horse practice, servicing Greater Sydney and regional NSW.
To check availability or to book an appointment, please fill out the form below or call James on 0409 614 059 (click to call)
EQUINE / HORSE CHIROPRACTOR, OSTEOPATH & ACUPUNCTURIST ~ JAMES PICTON ~ AUSTRALIA ~ AUSTRALIAN EQUINE / HORSE CHIROPRACTOR, OSTEOPATH & ACUPUNCTURIST